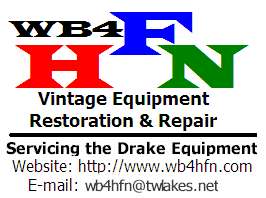 E-mail me for more information on Drake radio repair & service, or refurbishing work.
Having issues with your Drake AC-4 Power Supply ??
Consider rebuilding the power supply with the AC4R upgrade kit from the Heathkit Shop. This upgrade replaces ALL the components in the AC4 except for the power transformer. All new components are mounted on a printed circuit board and permanently mounted inside the AC-4 power supply. The upgrade is 100% compatible with all the Drake radios. With the cover installed on the AC-4, it still looks all original, and with all new components inside the AC-4 should last another 30 years of trouble free service.
Not interested in the upgrade,
just having your AC-4 repaired ??
No problem, I can just repair your AC-4 power supply, replacing the bad components and ensure it is working properly.
For more information on these services or for your radio repair needs please e-mail me at: wb4hfn@twlakes.net