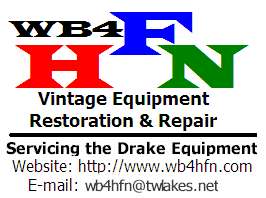 E-mail me for more information on Drake radio repair & service, or refurbishing work.
I offer Service & Repair and Refurbishing services on most of the Drake Ham Radio equipment. I have over 40 years of experience repairing Drake ham radio equipment. During that time I worked for Motorola and in the two-way radio industry for 20 years and in the aircraft avionics industry. I have a fully equipped test bench to address all your repair and service needs. I also offer refurbishing services on the Drake radios. I can perform a good general cleaning and chassis cleaning and resealing, to front panel and case touchup, case repainting and front panel restoration. See the links below for some of my recent refurbishing projects.
I no longer repair the following Drake radios. This includes the Drake TR3 and the very early TR4 with the soup can type IF filters which includes all TR4's under serial number 21,000, the Drake 1A, the FS4, the TR6 and RV6, the SPR4, and the R8 receiver series and all the later microprocessor based receivers, the VHF radios including the UV3 and all the 2 meter radios made by TRIO/Kenwood with the Drake name on them.
Details on Service & Repair, general information and cost.
For more information on these services or for your radio repair needs please e-mail me at: wb4hfn@twlakes.net
See the links below and at the bottom of this page for more information and pictures of recently refurbished radios.