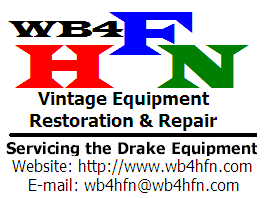 E-mail me for more information on Drake radio repair & service, or refurbishing work.
Drake Amplifier Service & Repair, L-4, L-4B, L-7, and L-75
Service & Repair and Refurbishing services are available for the Drake amplifiers and high voltage power supply. Services include cleaning, repair or the full refurbishing process. Need to replace final tubes and/or chimneys ? I can help.
I can clean & repair and/or rebuild the high voltage power supply. The rebuilding process includes all new filter capacitors and rectifiers and any other parts deemed bad.
I stock and install the latest after-market upgrade kits from The Heathkit Shop and Harbach for the L4B or L7 High Voltage Power Supplies.
For more information on these services or for your radio repair needs please e-mail me at: wb4hfn@wb4hfn.com